Executive Chef, Entrepreneur & Educator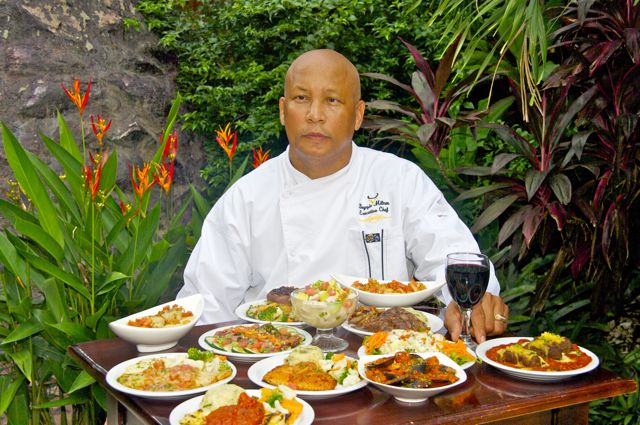 Chef Boyzie Milner was born and raised in Columbus Ohio. Boyzie joined the U.S. Army 82nd Airborne Paratroopers after he graduated from High School. While in the military he attended Culinary School. Once Honorably Discharged he began working as a chef at restaurants in Columbus Ohio.
Chef Boyzie also attended Columbus State Community College .
While working as a Chef at Holiday Inn in Marquette, Michigan Chef Boyzie and Chef Nelson started one of the first Culinary Chapters in the Upper Peninsula.
After becoming an Executive Chef for Holiday Inns Inc, he was then promoted to Quality Assurance Evaluator for Food Service Systems at their Corporate Office in Memphis Tennessee. Next he was promoted to Food Director at the Holiday Inn in Austin Texas. Chef Boyzie relocated back to Ohio to become one of the First Chefs to be hired at the 3rd largest major Methodist Hospital in Ohio, with 1200 beds and a campus of 5,000 employees.
Riverside Methodist Hospital is ranked  one of the best hospitals in the nation. Chef Boyzie was responsible for all Patient Food Service facilities, Food retail outlets, catering, bakery facilities, Cryovac and Cook Chill facilities.
Chef Boyzie also did all the culinary training of all kitchen staff at the hospital.
Boyzie was an Executive Chef for the Miami Valley Country Club and the Marriott Corporation.
In 1992 Boyzie Milner accepted a job offer as Executive Chef in Las Vegas with Boyd Gaming at the Fremont Hotel in Downtown Las Vegas.
Two years later he was in charge of a Food Service Team that opened Players Island Casino In Mesquite, Nevada.
In 1998 Chef Boyzie Joined Harrah's Lake Charles Casino as a Food Director / Executive Chef.
Chef Boyzie was then relocated to Harrah's Resort and Casino in Laughlin as the Executive Chef.
While with Harrah's Casinos Chef Boyzie was also responsible for Regional Chef Duties. Chef Boyzie would travel to Harrah's Casino properties in California, Arizona, and Chicago to train kitchen staff and open new restaurants.
Chef Boyzie left the Casinos in 2004 and Worked with Sunrise Hospital & Medical Center, Spring Valley Hospital and Health South Rehabilitation Center as a Executive Chef and Consultant to properly train foodservice staff and improve the overall quality of their Foodservice program.
Chef Boyzie has appeared on Channels 3 and 5 with cooking program segments.
Chef Boyzie also helped open 4 restaurants in Costa Rica for Pacific Breeze Inc.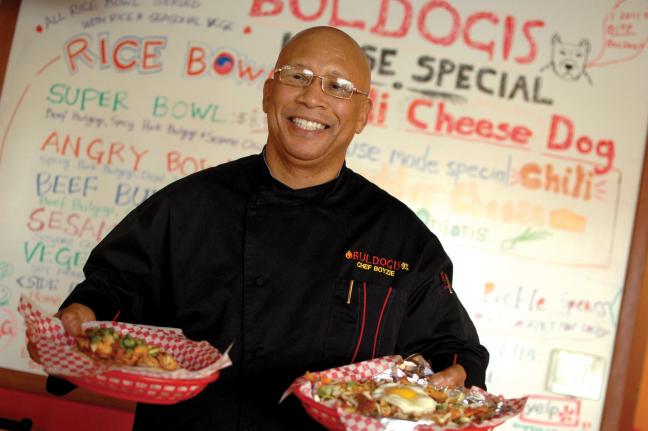 In 2010 Chef Boyzie and his wife decided to come up with a Unique Soulful Korean Food Concept.
With Chef Boyzies passion to be the best at what he does and his wife's authentic Korean Influence, Chef Boyzie knew it would be a success. Based on their travels overseas and their travels in the U.S. they came up with the Buldogis Concept.
In June of 2011 together they opened up their first Buldogis Gourmet Hot dogs in Summerlin. The Summerlin location was very successful and got many great reviews. In 2013 they came out with the Buldogis Unleashed Food Truck which was another hit.
The Buldogis restaurants have been in every major magazine in Las Vegas. Conde Nast Traveler picked Buldogis Gourmet Dogs as the number 1 out of the top 15 Fusion Dogs in the country.
Oprah Winfrey's O magazine did a article on Buldogis Gourmet Hot dogs in her 2014 July Edition.
Executive Chef Boyzie will always be involved in the Hospitality Food World in some fantastic way or form.
Chef Boyzie has a great passion for wanting to teach others the fine Art of Successful Culinary Cuisine.
 Just keep your eyes open and before you know it, something else great will come along created by Chef Boyzie Milner.